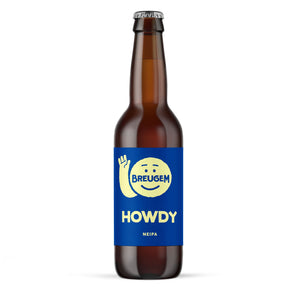 Howdy - NEIPA
Howdy is een New england IPA
Heerlijk sappig en fruitig van smaak.

Wat hebben Bonnie, Bassie, Bobbie en Beyoncé gemeen?
Ze zouden nergens zijn zonder Ernst, Jay, Clyde en Adriaan.

Dus partner up, en sla de handen ineen.
Want samen bereik je meer.

Of zoals ze in New England zouden zeggen: teamwork makes the dream work.

"Dit bier is een samenwerking tussen Breugem Bier en Creative Agency Howdy.amsterdam"