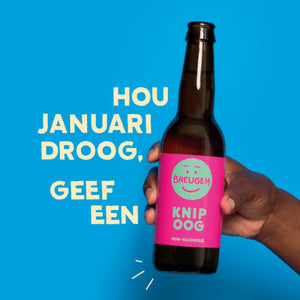 Doosje Knipogen
Januari is voor velen een maand van bezinning. Een maand om even aandacht de schenken aan je innerlijke ik. Noem het een 'great reset' voor je lichaam. Breugem's Knipoog is dan de perfecte vervanger voor je alcoholhoudende Breugem favoriet. Sterker nog, Knipoog is ook nog eens een bier, dat je zonder schuldgevoel op maandagavond opentrekt! Als je toch dat tikkie alcohol in je bier wil, dan hebben we ook een doosje lichte bieren. 

Aanbieding!

12x Knipoog 
4x Knipoog / 4x Caramba 3% / 4x Session 3%

Knipoog is net iets zachter dan een IPA, 

met tonen van groene thee en passievrucht.
En nog alcoholarm ook.
Een zorgeloos bier, voor een zorgeloos leven.
Want een Knipoog kan altijd. 
Of je 'm nou krijgt of geeft,
er kan veel moois uit voortkomen.
Dus Knipoog er lekker op los.
De hele dag door.
Alc. 0,4% vol.